Statement by Minister Bibeau on the occasion of the end of the Federal Cabinet retreat
September 17, 2020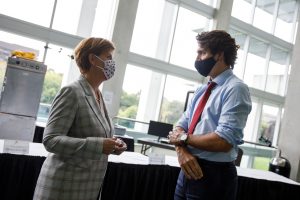 Sherbrooke, September 17, 2020 - '' Back in my region after three days of intense meetings with Prime Minister Justin Trudeau and all my fellow ministers, I am pleased and confident. The next few months will not be easy for anyone, but our team is fully prepared to continue working so that all Canadians can weather this crisis and so that we can safely and sustainably revive our economy at the appropriate time.
As a responsible government, we continue to monitor the evolution of COVID-19 and, based on evidence and following the advice of public health experts, we are doing everything in our power to protect and support Canadians directly and through provincial governments to whom we have transferred more than $19 billion of emergency funding to safely restart their economies.
The pandemic has also shown us the extent to which our agricultural producers, and all workers in the food sector, perform work that is essential to our well-being. Despite all the anxiety they too were going through, and all the extraordinary challenges they had to face, they worked hard every day to ensure that we had good food to put on our tables. The crisis has also enabled us to identify the strengths and weaknesses of our food supply chain and recognize the importance of buying local.
Our vision and the priorities that we will adopt as a government will be set out in the Speech from the Throne next week. I look forward to sharing with you the fruits of our work and continuing the sustainable development of our agriculture and agrifood sector. ''
- The Honourable Marie-Claude Bibeau, Member of Parliament for Compton‒Stanstead and Minister of Agriculture and Agri-Food
-30-
For media inquiries, please contact:
Jean Sébastien Comeau
Press Secretary
Office of the Minister of Agriculture 
and Agri-Food, Hon. Marie-Claude Bibeau, MP for Compton-Stanstead
Cell.: 343-549-2326